22


Nov 19 Holiday scam season
As we move in to the Holiday season be on the lookout for fraudsters trying to take advantage of you and your money. One of the most common scams seen lately comes in the form of a text message. You may receive an unexpected text similar to the one below: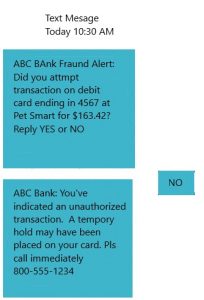 After responding to the text, and then calling the number listed, you may speak to a person or hear an automated system asking to verify your card information. This is where the bad guys get you. At this point the caller is willingly giving up all of their card information.
If you receive a suspicious text, email, or phone call please contact your local branch right away so our staff can research it for you and stop any unauthorized activity.
0 Comments so far! | Leave a Comment
Sorry, the comment form is closed at this time.