26


Feb 20 SMiShing – bad fraud with a funny name
Recently we have seen an increase in SMiShing attacks.  What exactly is SMiShing?  SMS(Short Message System) phishing, or SMiShing, is a fraudulent text message sent to you as part of a scam.  One recent attack has had people calling their banks to ask why their cards have been locked.  The attacker is sending text messages stating that your card has been locked and asking the receiver to call a fake 800 number.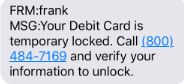 When calling the number or tapping the the link in the text the attacker will then try and harvest your personal information for use in other scams.
For more information on SMiShing or communication fraud visit the Federal Trade Commission website.
0 Comments so far! | Leave a Comment
Sorry, the comment form is closed at this time.